NEW WEBSITE FOR COMPANY BEHIND THE REDEVELOPMENT OF THURSO TOWN HALL
The group behind the redevelopment of Thurso Town Hall into a multi-purpose community, visitor, information centre and museum, Caithness Horizons, have launched a new website to keep people informed of the projects progress and have formalised themselves by becoming a company limited by guarantee.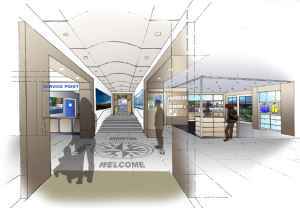 Preliminary sketches and plans of the proposed layout for the redevelopment are now available on the new website www.caithnesshorizons.co.uk . There is also a chance for people to complete an online survey form, which will provide information on what facilities people would like to see provided. Plans are also available in Thurso Town Hall and both Wick and Thurso Libraries.
Under the plans Thurso Town Hall and the adjacent library which are owned by The Highland Council will be developed to improve the public spaces for meetings, talks and local groups, and to bring together information for visitors on Thurso, Caithness, and the decommissioning work at Dounreay. The project will ensure that the Victorian old building is maintained for public use in the future.
Convener of The Highland Council's Caithness Area Committee, Councillor David Flear said: "As this exciting project progresses it is important that everyone is kept informed. The new website will be a vital tool in allowing everyone to follow developments. The preliminary sketches and plans currently on it are to generate discussion and are by no means the final designs. Our website will also be used to promote the project to potential funders so we can generate as much support as possible. The area has been crying out for a facility like this one which will benefit the local community and give visitors to the area a central information point from which to explore the rich heritage and natural beauty of Caithness."
The group are also preparing a brochure as another means of promoting the project to potential funders and are currently preparing funding applications and working towards an ERDF submission for early 2005.
John Thurso MP, who is backing the project and has agreed to be an Honorary Patron for the newly formed company, said "This is an imaginative development which will strike a chord with most people and in which the whole community can take pride. It will act as an exciting magnet to visiting tourists and I am keen to help in any way I can in bringing the project to fruition."
Caithness Horizons is a partnership between The Highland Council, Thurso Heritage Society and UKAEA who will be working closely with other local and national agencies to create a focal point for Thurso. Included in the building will be;
* Permanent and temporary exhibition and displays which will showcase the area;
* A Council Service Point;
* A Tourist Information Centre;
* Lecture and audio visual presentation facilities;
* A café