Sale Reports

A & N Marts
Dingwall & Highland Marts Ltd
United Auctions
Photo Galleries
Farm Animals In The North
Send in your photos for this new section
County Show 2007
County Show 2006
County Show 2005
County Show 2004
County Show 2003
County Show 2002
Caithness Mart Buildings
Farm Machinery - Whose machines have we spotted? Send your photos
Hay
Livestock Contacts
Aberdeen & Northern Marts
Caithness Livestock Centre Sale Dates Etc
John Bremner
Quoybrae Agricultural Centre
Tel: 01955 621363
Fax: 01955 621339
robbie.gordon@anmarts.co.uk
Web: www.goanm.co.uk
Caithness Livestock Breeders
Liam Gunn
CLB Thurso
Tel: 01847 894567
Fax: 01847 894672
clbthurso@btinternet.com
SAC
SAC Co-ordinator
Bob Tosh
Area Agricultural Advisor
email: aothurso@sac.co.uk
Tel: 01847 892719
Fax: 01847 895423
Caithness & Sutherland Information
Highland & Islands General Information
Young Farmers Groups in Caithness
Caithness Vintage Tractors & Machinery Club

Agricultural Reports
A Forward Strategy For Scottish Agriculture
June 2001
Overview available and full document as pdf
Red Meat Processing & Marketing in the Highlands & Islands - Sep 2002
The Scottish Sheep Industry - A Way Forward Sep 2000
Summary & Recommendations
Policy Commission On The Future Of Farming And Food
January 2002
BBC Farming Programmes
BBC Radio 4 - On Your Farm
BBC Radio 4 - Farming Today
Animals - Don Smith
Ever wondered about all those names for animals
Highlands & Islands Sheep Health Association
Scottish Association of Young Farmers Clubs
Dingwall & Highland Marts Web Site
Caithness Machinery Ring
Horses
See Also
GM Crops/Food News
Farming Links
Latest Mart Reports In Business Index
19 March 08
Links to any mart reports can now be found in the Business Index
5 October 07
Quoybrae - Store Sheep Sale - 4th October 2007
6,852 sheep were sold
29 August 07
Dingwall & Highland Marts Ltd Resume Sales After Restrictions Lifted


Dingwall & Highland Marts Limited held their first Prime sale since the restrictions on the movement of livestock were lifted following the Foot and Mouth outbreak in England. The firm had their firs sale of over 2000 lambs in Portree on Monday the 27th August 2007 and have rescheduled sales over the next fortnight as follows......
25 July 07
Breeds In The North Of Scotland

First photo in is a Simmental Bull
Send in photos for this section to bill@caithness.org
Fat Sale At Dingwall Mart - 24 July 2007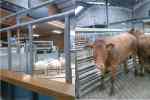 Dingwall & Highland Marts Ltd., (July, 24th) sold 47 prime cattle and 208 prime sheep.
Note - Caithness.org has now agreed to run Mart reports from Dingwall and Highland Marts and we hope these are of interest to farmers in the north.
New Farm Animals Section Coming Shortly
We will also be setting up a section to build up sample photos of the various breeds of animals sheep, cattle, pigs, goats etc that are reared in Caithness Sutherland and Ross-shire. If anyone has photos of particular breeds and would like to help us building these new galleries please email them to bill@caithness.org Acknowledgements will be added to each photo stating the photographer and farm etc as requested by whoever send the photo. Alternatively photos can be left without this information. If anyone has photos of animals from earlier periods that are no longer reared we will add this to historical gallery in the same section. Prize winning animal photos will also have a separate section if these are received. The far north rears some of the best animals fed on grass in the country and we hope this will help promote north of Scotland livestock to a wider public.
166th Caithness County Show 2007
19 July 07
Dingwall & Highland Marts 4th Anniversary Show and Sale Of Store Cattle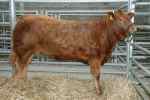 Sold 1,384 store cattle in the Anniversary show and sale. The Judge, Mr Alan Turnbull of Meadowend, Clackmannan, chose a 510kg senior Limousin heifer from J Munro & Son, Invercharron, Ardgay, which realised £760 to D Morrison, No. 141 Burnside, Kinlochbervie as his Overall Champion in the Conanvet sponsored singles show. The Reserve Champion award went to a 600kg senior Limousin bullock from Gaich Farms, Lower Gaich, Dulnain Bridge, realising £810 to T H Stevenson & Sons, Balmacolly Farm, Bankfoot.
"Quality kinds from Caithness met a strong demand." See prices...............
27 May 07
Local Food News from Hi Local Food Network - May 2007
27 May 07
Mey Selections Adding More Profits For Northern Farmers
MEY SELECTIONS RAISES ALMOST A QUARTER OF A MILLION POUNDS IN PREMIUMS FOR BEEF AND LAMB £4.6m turnover in first full trading year 25 May 2007: North Highland Products - the operating company for the Mey Selections brand - has reported a turnover of £4.6m in its first full year of operation, with around £240,000 raised in premiums over the Scottish average price in 2006. "In our first full year we have achieved a significant rise in turnover," said Danny Miller, chairman, at the company's Annual General Meeting, held last night at the Park Hotel, Thurso.
17th Annual Ploughing Match At Greenland Mains, Castletown 25 November 2006



27 July 06
Sutherland Venue For Northern Sheep Event
Lamb grading, sheep health, production systems and easycare sheep are among the topics to be discussed at North Sheep an open day for the sheep industry which is due to be held on Thursday the 10th August 2006, at Kirkton Farm by Melvich, Sutherland, by the kind permission of Messers W Findlayon. This free event which starts at 1.00pm has been organised by SAC and is supported by European Social Fund (ESF), Highlands and islands Enterprise (HIE), Scottish Agricultural College (SAC), Quality Meat Scotland (QMS)
18 July 06
Caithness Beef Group Get Up to Speed on Production Efficiency
The change in farm support away from direct headage payments means that livestock producers need to improve efficiencies in production and not rely on the single farm payment to prop up the business.
Learning new ideas and implementing these ideas is the way forward. And, for members of the Caithness and Sutherland Beef Group there was an opportunity to do just that on 12th July at Rattar Mains near Dunnet, Caithness.
The group met at the farm, by kind permission of the Mackay family and, on a farm tour, they discussed various aspects of efficient suckled calf production. The discussion was led by the SAC Area Adviser, Bob Tosh, and the newly appointed Beef and Sheep Specialist for Northern Scotland, Ian Pritchard.
New members are welcome to join the group which meets on a regular basis to exchange ideas. Their meetings are mainly on farms and different topics are chosen for discussion. Details of how to join can be obtained from the SAC office, Strathbeg House, Clarence Street, Thurso. Tel. 01847 892719
In the near future a sheep group will be established and producers interested in attending should contact David Brewster at the above address.
14 July 06
Sheep Dip Licences
The Scottish Environment Protection Agency (SEPA) is receiving enquiries from farmers in relation to the marketing suspension of cypermethrin, also known as synthetic pyrethroid (SP), dip and is being asked whether charges still apply for them holding a licence to dispose of waste dip whilst these products cannot be sold. SEPA's position is that the annual charges still apply.
Thurso Auction Mart To Close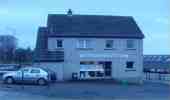 It was announced today by United auctions that as part of a strategic re-organisation, that that the seasonal livestock mart at Thurso is to close in November. In recent times only one person has been employed at the mart in Thurso and some casual labour when sale was being held. This follows the company's recent disposal of its 30 per cent shareholding in Dingwall and Highland marts. The company is making a £350,000 investment in new facilities at Huntly and is proposing to invest some £10 million in a new mart at Stirling. The usual programme of sales is planned for the autumn with closure expected at the end of November or early December.
Archived Caithness Farming Items 2006
Archived Caithness Farming Items 2005
Archived Caithness Farming Items 2004
Archived Caithness Farming Items 2003
A Few Livestock Pictures
Caithness Cattle
If you would like to submit pictures of animals for the site contact bill@caithness.org
Environment
Caithness & Sutherland Environmental Group (CASEG)
Other Environmental Groups
Nature & Environment
Several Caithness Farms Run Bed & Breakfast
Self Catering Cottages On Farms In Caithness