Education Culture & Sport
Highland Council - Caithness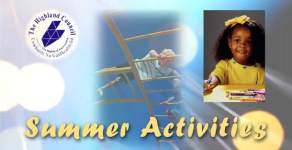 Wick At Top of Page
Thurso At Bottom
For further information on any of the below activities please contact:
Koreen, Shona, Marie – Tel: 01955 605423
Garry – Tel: 01955 602362
ACTIVITY

VENUE

Age

Range

Date

Times

Cost

*DODGEBALL
Wick Youth Club

P7

Monday 2 July

1.30 - 4.00pm

£1
*VISUAL ART
Wick Youth Club

P7

Monday 2 July

1.30 - 4.00pm

£1
*CLIMBING WALL (Wick Youth Club activity) Bus leaves WYC 12.30 returns 3.30 (packed lunch required)
Thurso High School

P7

Tuesday 3 July

12.30 – 3.30pm

50p
CLIMBING WALL (Transport as above)
Thurso High School

P7

Tuesday 3 July

12.30 – 3.30pm

50p
*NETBALL
Wick Youth Club

P7

Wednesday 4 July

1.30 - 4.00pm

£1
*FOOTBALL
Wick Youth Club

P7

Wednesday 4 July

1.30 – 4.00pm

£1
*MUSIC MEDIA WORKSHOP
Wick Youth Club

P7

Wednesday 4 July

1.30 – 4.00pm

£1
*FUN ATHLETICS
Wick Youth Club

P7

Thursday 5 July

1.30 – 4.00pm

£1
*MUSIC MEDIA WORKSHOP
Wick Youth Club

P7

Thursday 5 July

1.30 – 4.00pm

£1
*GLASS ENGRAVING
Wick Youth Club

P7

Thursday 5 July

1.30 – 4.00pm

£1
GOLF, FUN DAY & BBQ
Wick Youth Club

P7

Friday 6 July

1.30 – 4.00pm

£1
FIRST CLUB GOLF
Wick High School

P3,4,5

Monday 2 July – Friday 6 July

1.30 – 2.30pm

50p
FIRST CLUB GOLF
Wick High School

P 6/7

Monday 2 July – Friday 6 July

2.45 – 4.00pm

50p
TOPSPORT ACTIVITIES
Wick High School

P1,2,3

Monday 2 July – Friday 6 July

1.30 – 2.30 pm

50p
TOPSPORT ACTIVITIES
Wick High School

P4,5,6

Monday 2 July – Friday 6 July

2.45 – 4.00pm

50p
FREE SWIM
Wick Swimming Pool

All

Thursday 5 July

10.00 – 12.00

Free
FOOTBALL
Wick High School

P3,4,5

Monday 9 July – Friday 13 July

9.00 – 10.30 am

50p
FOOTBALL
Wick High School

P 6/7

Monday 9 July – Friday 13 July

10.30am – 12.00pm

50p
RUGBY
Wick High School

P4/5

Monday 9 July – Friday 13 July

1.00 – 2.30pm

50p
RUGBY
Wick High School

P 6/7

Monday 9 July – Friday 13 July

2.30 – 4.00 pm

50p
COME & PLAY NETBALL
Wick High School

P4,5

Monday 9 July – Friday 13 July

10.00 – 11.00am

50p
COME & PLAY NETBALL
Wick High School

P6/7

Monday 9 July – Friday 13 July

11.00am – 12.00pm

50p
FREE SWIM
Wick Swimming Pool

All

Thursday 12 July

10.00 – 12.00

Free
COME & PLAY TENNIS
Rosebank Playing Fields

P5,6,7

Monday 16 July – Friday 20 July

2.00 – 3.00pm

50p
ARTS & CRAFTS
Wick Library

P1-3

Tuesday 3 July

2.30 – 3.30pm

Free
ARTS & CRAFTS
Wick Library

P4-7

Tuesday 7 Aug

2.30 – 3.30pm

Free
*Wick Youth Club activities are organised in partnership with Highland Council (family rates apply)
Please book at Community Learning Office, Ackergill St, Wick (tel:605423) Mon – Fri 9.30am – 12.30pm
Library Arts & Crafts must be booked at Wick Library, Sinclair Terrace, Wick. Tel: 01955 602864
For further information on any of the below activities please contact:
Kenny, Ang, Val or Valerie
Tel: 01847 895782
ACTIVITY

VENUE

Age Range

Date

Times

Cost

MINI ATHLETICS
Thurso High School

5 – 8

Monday 2 July

10am – 11.30am

50p
MINI ATHLETICS
Thurso High School

9 – 11

Monday 2 July

12.30pm -1.30pm

50p
*NEED A SEAT – MAKE IT!
Thurso Youth Club

11 – 14

Monday 2 July

2pm – 4pm

£1
*DANCE WORKSHOP
Thurso Youth Club

11 – 14

Monday 2 July

2pm – 3pm

£1
*POOL COMPETITION
Thurso Youth Club

11 – 14

Monday 2 July

2pm – 4pm

£1
CLIMBING WALL
Thurso High School

5 – 11

Tuesday 3 July

10am – 12noon

50p
*SNAP HAPPY (Photography Workshop)
Thurso Youth Club

11 – 14

Tuesday 3 July

2pm – 3pm

£1
*CLIMBING WALL (Thurso Youth Club activity)
Thurso Youth Club

11 – 14

Tuesday 3 July

2.45pm – 4pm

£1
CRICKET
Thurso High School

5 - 8

Wednesday 4 July

10am – 11am

50p
CRICKET
Thurso High School

9 -11

Wednesday 4 July

12noon – 1.30pm

50p
*GET ON STAGE WITH EDEN COURT
Thurso Youth Club

11 – 14

Wednesday 4 July

2pm – 4pm

£1
*FRAME IT (making your own picture frame)
Thurso Youth Club

11 – 14

Wednesday 4 July

2pm – 4pm

£1
ARTS & CRAFTS (to be booked at Thurso Library)
Thurso Library

4 – 7

Wednesday 4 July

10.30am 11.30am

Free
SHINTY
Thurso High School

5 - 8

Thursday 5 July

10am – 11.30am

50p
SHINTY
Thurso High School

9 - 11

Thursday 5 July

12noon – 1.30pm

50p
FREE SWIM
Thurso Swimming Pool

All

Thursday 5 July

2pm – 4pm

Free
IT'S A KNOCKOUT (obstacle course challenges)
Thurso High School

11 – 14

Thursday 5 July

2pm – 4pm

£1
CHEERLEADING
Thurso High School

5 – 8

Friday 6 July

10am – 11.30am

50p
CHEERLEADING
Thurso High School

9 – 11

Friday 6 July

12noon – 1.30pm

50p
*CHEERLEADING
Thurso Youth Club

11 – 14

Friday 6 July

2pm – 3pm

£1
*TEAM WORK (team challenges)
Thurso Youth Club

11 – 14

Friday 6 July

2pm – 3pm

£1
*CANVAS PAINTING
Thurso Youth Club

11 - 14

Friday 6 July

3pm – 4pm

£1
POOL DISCO
Thurso Swimming Pool

5 - 7

Monday 9 July

10am – 11am

Free
POOL DISCO
Thurso Swimming Pool

8 - 11

Monday 9 July

11am – 12noon

Free
AQUA AEROBICS
Thurso Swimming Pool

8 - 11

Monday 9 July

1pm – 2pm

Free
AQUA AEROBICS
Thurso Swimming Pool

8 - 11

Monday 9 July

3pm – 4pm

Free
*"THE APPRENTICE"

(Thurso Youth Club style)

Thurso Youth Club

14 - 18

Monday 9 July and

Tuesday 10 July

12noon – 4pm

£1 per session
DANCE
Thurso High School

5 - 8

Tuesday 10 July

10am – 11.30am

50p
DODGEBALL
Thurso High School

9 – 11

Tuesday 10 July

12noon – 1.30pm

50p
FREE FUN SWIM GALA & WATER POLO
Thurso Swimming Pool

9 – 11

Tuesday 10 July

2pm – 4pm

Free
MUSIC AND MOVEMENT
Thurso High School

5 – 8

Wednesday 11 July

10am – 11.30am

50p
CHOREOGRAPHY
Thurso High School

9 - 11

Wednesday 11 July

12noon – 1.30pm

50p
*ROCK SCHOOL
Thurso Youth Club

13 +

Wednesday 11 July

- Friday 13 July

10.30am – 4.30pm

Free
BASKETBALL
Thurso High School

9 – 11

Thursday 12 July

12noon – 1.30pm

50p
FREE SWIM
Thurso Swimming Pool

All

Thursday 12 July

10am – 12noon

Free
BASKETBALL
Thurso High School

5 – 8

Thursday 12 July

10am – 11.30am

50p
FOOTBALL
Thurso High School

5 – 8

Friday 13 July

10am – 11.30am

50p
FOOTBALL
Thurso High School

9 – 11

Friday 13 July

12noon – 1.30pm

50p
ARTS & CRAFTS (to be booked at Thurso Library)
Thurso Library

8 – 11

Wednesday 8 August

2.30pm – 3.30pm

Free

Family Rates apply
Rock School is being run in partnership with Careers Scotland and Thurso High School
*Joint programme delivered by The Highland Council and Thurso Youth Club
The Big Wild Read
The Library will be running "A Summer Reading Challenge" for children aged 4 – 11 years they will each receive a bright folder, scratch and sniff stickers, bookmarks and a packet of wild flower seeds.
Storytime every fortnight
Contact - Thurso Library Tel: 01847 893237
Swanson Gallery – open Monday – Wednesday 1pm – 5pm,
Friday 1pm – 8pm and Saturday 10am – 1pm
Exciting Exhibitions For All Ages
Contact: Tel: 01847 896357
For more details or information on any of the activities detailed overleaf you can download a booking form, visit The Highland Council Summer Activities website. http://88.208.206.62/cll/
Please be advised that in the event of warm weather some activities may take place outdoors and it is therefore the parents responsibility to apply appropriate protection against the sun.
The following organisations will be running activities throughout the summer – please contact them direct for details
Thurso
TREATS - Contact: Julie Butler – Tel: 01847 893000
CASPER - Contact: Rachel Cox/Louise Furness – Tel: 01847 821500
OCA - Contact: Tel: 01847 891789
Countryside Rangers - Contact: Mary Legg – Tel: 01847 821531
The following organisations will be running activities throughout the summer – please contact them direct for details
Pulteneytown Peoples Project's summer programme 9.00am-5.00pm
Contact: Amalie Cormack -Tel: 01955 606950 amalie.cormack@btconnect.com
Wick Family Centre is open in the holidays from 8.30am – 5.30pm
Contact: Anne Beveridge – Tel: 01955 606065
Countryside Rangers - Contact: Lindsey Duncan – Tel: 01955 607759
Lindsey.Duncan@highland.gov.uk