Wick St Fergus

Formerly Wick Old Parish Church
High Street, Wick, Caithness, U.K.


Services
Sunday
Morning Worship 11.30am
Sunday School 11.30am
Minister - Vacant
Church Manse,
Miller Avenue,
Wick,
Caithness,Tel 01955 604252
"Wedding Belles" -
60 Wedding Dresses On Show At Old Parish Church , Wick - Thursday 1 April


The Flower Festival runs in the afternoon and in the evening the flowers will make a superb backdrop for a display of 60 wedding dresses dating from the 1920's. the dresses have been loaned by many local ladies for the fund raiser in aid of Wick Players who have again just won the SCDA Highland finals with their play "The Best Warm Beer In Brooklyn by Jason Milligan. Funds raised will go towards the newly acquired premises in Moray Street. The Scotttish finals take place in Inverness and Wick Players will be there. If you have not got your ticket for Wedding Belles you can get them at Polteney News in Dempster Street, wick but you better be quick. Some of the dresses at an earlier rehearsal
Flower Festival - Old Parish Church, Wick 1 April 2.00 - 4.00pm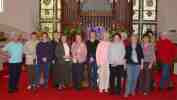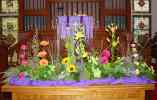 Ladies from Wick Gardening Club got ready for the Flower Festival on Thursday 1 April. There will be teas in the hall and a range of musical items from 3.00pm Funds raised will be in aid of the church organ fund.
Stained Glass Windows Of Wick St Fergus formerly Old Parish Church