The Sinclair Macdonald collection is the most wide-ranging collection of architect's drawings available for this part of Scotland. Principally concentrating on Caithness, many plans are also available for Sutherland and Orkney, with some going further afield.
Barbarettas Sinclair Macdonald was born to John MacDonald and Barbara Sinclair in Brora, 18 August 1864. His mother died 31 August of the same year. He was brought up by his grandmother Jane Sinclair in Melvich (1871 census, Clyne, ED 5 p. 8) after the death of his father, a minister in the Free Church, on 31 March 1866. By the 1891 census, he was 26 and working as an architect in Thurso, after serving time in Aberdeen and Inverness. He was now known simply as Sinclair Macdonald.
The practice began in Olrig St, moving a few years later to Princes St. Secondary offices at Wick and Kirkwall were added later. Hugh MacDonald, son of Sinclair, became a partner in 1931. John Barnie and James Campbell became partners in 1960, and Hugh MacDonald's son Alistair also continued the family tradition. The range of plans now in the NHA go up to and partly include the 1950s - more recent plans have not yet been transferred.
Schools, churches, agricultural buildings, public buildings and housing feature amongst the wide-ranging plans now available in the archive. The early decades of the 20th century show a particularly impressive number of municipal projects. Sketches of the Castle of Mey, then Barrogill Castle, by William Burn, are also included in this collection (ref. SM 1930/66/2/1-6). The Sinclair MacDonald plans as a whole, and the extensive preservation project recently completed, is an event of major importance to the archive and to the community.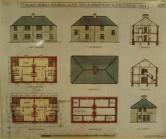 7000 plans and business records are available at North Highland Archive. The collection has been preserved as part of project to preserve over 150,000 architectural records covering 25 archtectural practices across Scotland. The work was paid for by a Heritage Lottery grant of £625,500
These notes have largely been condensed from the essay prepared by Rebecca Bailey of the Royal Commission of Ancient and Historical Monuments, or RCAHMS. Details of the conservation work undertaken and a hard-copy catalogue of the plans available can be consulted in the North Highland Archive, as can the plans themselves. They were preserved as part of a successful lottery bid from RCAHMS (their Scottish Architect's Paper Preservation Project). RCAHMS now have ownership of the material and hold it in this archive on permanent deposit. Their web-site in on ---
www.rcahms.gov.uk On the site go to the Canmore Database
Brenda Lees, North Highland Archive, Wick Library, Sinclair Terrace, Wick KW1 5AB.