Chloe Mackay Keiss Primary A Winner In Calendar Competition

Chloe Mackay of Keiss primary school was one of 12 winners inthe Lyreco Calendar competition and was presented with her prize in Inverness
18 September 04
Keiss School - New Garden Opens After Two Years Work

Willie Watt from Subsea Seven yesterday opened the new garden at Keiss Primary School. the specially formed committee had worked for two years with the help of Ranger Marina Finlayson to clear up a derelict piece of school ground that had become overgrown.

Tree Planting For Keiss Kids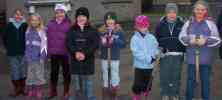 Keiss School DIGG Project held a tree planting day last Saturday as part of the development and improvement of a waste and derelict area of the school grounds. The tree planting was part of phase two of the DIGG Project. Phase one was the installtion of a paved area of Caithness flagstone, the erection of 'standing stones,' with designs created by the children, sandblasted onto the stone and the siting of two picnic tables and seating. A competition was held in school to design the pictures for the stones with the winning designs being the ones picked to be put on the stones. The photograph shows Marina Finlayson the East Caithness Forest Ranger explaining to the children how to go plant their trees. A number of pupils, parents and teachers turned out to help on Saturday afternoon. The children planted birch, rowan, hawthorn, whitebeam, alder and bird cherry trees.
The Keiss School Digg Project is being supported by Scottish Natural Heritage.
The children with the spades are Sarah Banks, Sophie Tait, Cara Banks, Laura Banks, Gemma Robertson, Hannah Freeman, Mikie Freeman and Marysia Frame.
Keiss School Report From Inspectors Jan 2003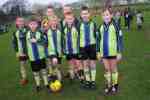 Soccer Sevens
Keiss School footballers primary 5/6 went to Dingwall to play in the Walkers Crisps Soccer Sevens
Unfortunately Keiss didn't win but had an enjoyble day out. Goal scorers of the day were Kris Campbell 2 and Jordan Tait 1. 35 teams took part with Keiss being the furthest travelled team.