If you would like to sing in a growing choir then you can?
Caithness and North Sutherland Childrens Choir
Children from P4 to S2 can come along and audition on Monday nights, 6pm, Pennyland School. Contact lewrytoons@aol.com or phone 01847 896783.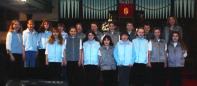 The Choir
Contact -
Heather Lewry,
4 Rockwell Crescent,
Thurso
Caithness
KW14 7PL
Tel 01847 896783
31 October 04
The Choir Sing At
The Boys Brigade Anniversary Reception - Thurso

29 January 04
New Uniforms For Choir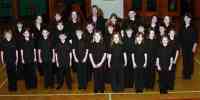 UKAEA Dounreay have sponsored uniforms for Caithness & North Sutherland Children's Choir, which is run for children from Primary 4 age to Secondary 2. Throughout the year the choir sings at local events entertaining all ages of the community. Heather Lewry, conductor and chairperson of the choir said " Caithness & North Sutherland Children's Choir would like to thank UKAEA for their sponsorship of new uniforms. The children were involved in choosing the colours (black and red) and are delighted with the end product. The children perform throughout the county regularly, and can now proudly wear their uniforms whilst performing". Pictured with the choir and Heather during their weekly rehearsal is Marie Mackay of UKAEA Dounreay Communications.