Keiss Castle, Caithness
Map Ref: ND 357616 Landranger Sheet 12
Keiss Castle Photo Gallery
Keiss Old Castle From The Air
The Later Keiss Castle Photo Gallery
Keiss New From The Air
Introduction
Robert Wilson Richmond
3rd September 2001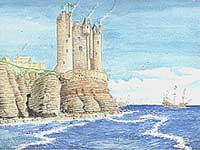 The artistic reconstruction by Andrew Spratt shows how the castle may have looked in 1595.
Keiss Castle is perhaps one of the best-known and most visible castles in Caithness lying some 10 miles south of John O' Groats and 7 miles north of Wick. It occupies one of the most dramatic locations at the top of sheer cliffs overlooking the sea at the Northern end of Sinclair's Bay.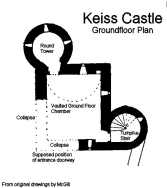 Access to the castle is by an easy 3/4 mile walk from Keiss Pier/Lang Head where there is ample car parking. You will pass some ancient broch sites on your way and as you approach the edifice you will be impressed by the elegance of the structure poised as it is right on the cliff edge, almost leaning back on itself as a precaution. It seems imposing from a distance but is really quite small and intimate close up.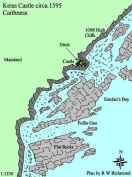 George, the 5th Earl of Caithness in the late 16th early 17th Century, built Keiss the exact year of its construction not being known. It was reputedly built upon the site of an earlier fortalice called "Raddar" but nothing of this now remains. The castle stood four stories in height plus an attic. Unfortunately the NE angle of the tower, which contained the entrance is gone, as have the upper floors. According to the Rev John Brand the castle was ruinous in 1700, but in 1726 it seems to have been in repair with "at the side of it a convenient house lately built".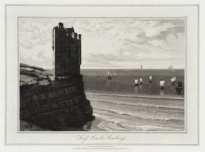 Keiss Castle is oblong in plan with two round towers, one to the South of the SE angle and one projecting to the West at the NW angle. The latter round tower contained a wheel staircase in line with the North wall. The entrance doorway led directly into the ground floor chamber, off which, was the staircase. This staircase did not go all the way to the top but accessed the principal joisted floors on the 1st and 2nd levels. A smaller wheel stair in a projecting turret on the North side accessed the upper rooms. There was only one room on each level and the walls throughout are no thicker than 3ft 3 inches.
Great care should be exercised when visiting Keiss as it is in a dangerous state, with the curtilage of the site being fenced off. There have been recent collapses in the solum and under no circumstances should the structure be entered.
References:
Also See: