20 March 06
New Affordable Homes For Thurso At Mansons Lane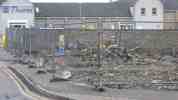 Work is underway on a development to bring 24 new affordable homes to Thurso, with support from Communities Scotland, the Scottish Executive's housing and regeneration agency.
The £1.4 million development in the town's Manson Lane by Pentland Housing Association will bring a much-needed boost to affordable homes in the area.
Sixteen of the properties will be for both social rent and eight will be for sale through the Executive's new shared-equity scheme, Homestake, which aims to get those on a low income onto the property ladder.
It is hoped the development of the brownfield site close to the town centre will help address the demand for affordable places to live.
Communities Scotland area director for the Highlands and Islands, David Nicol, said: "This development is a welcome addition to housing in Thurso. Prices have risen sharply in the area and first-time buyers, particularly younger people, are struggling to get on the housing ladder.
"Homestake will offer those on lower incomes the chance to own their own home and prevent people having to leave the area to look for an affordable place to live."
David Brookfield, director of Pentland Housing Association, added: "As well as providing much-needed affordable housing for Thurso the scheme will also tidy up a site that has been long derelict and greatly improve the environment for all members of the community.''
Homestake is Communities Scotland's new shared-equity scheme aimed at people on low incomes who wish to be homeowners but cannot pay the full price for a house. Housing associations will part-fund a share in the property and hold a part 'equity stake' in the property with the homeowner. Typically the owner's share will be between 60 and 80 per cent at the start. Most Homestake owners will have the option later to increase their stake and own their home outright.
The scheme was launched in Aberdeen by Communities Minister, Malcolm Chisholm, in March and opened for applications by the Minister in Inverness in September. Pentland Housing Association recently announced the first Homestake properties acquired by a housing association in Scotland under the programme with six homes at Naver House in Thurso.
The contractor for the development is O'Brien Construction. The project is due for completion by April 2007.