8 March 04
Hamnavoe Heads For Orkney - latest Pier Pictures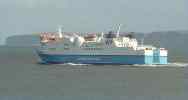 The covered walkway and arrival and departure terminal building is now complete.
6 August 03
Prince Charles Opens The Pier


On one of the warmest days for many years Prince Charles opened the new Scrabster Pier. An early morning shower had persuaded a few folk to bring umbrellas but they used them to keep the sun off rather than the rain. Prince Charles referred to his Grandmother's many trips to Caithness and his own memories of arrivals on the royal Yacht Britannia.
1 August 2003
New Pier Already Proving A Success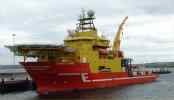 Oil Industry Supply and support vessels are already making the new pier a success story. With the official opening coming next week the pier has already been in use for the last three weeks. An increase in activity at Scrabster has seen nine vessels using the port recently. The Subsea Viking working in the Schiehallion Oil Field northwest of Shetland is fast becoming a regular visitor. The pictures show graphically the reason the new pier was required to accommodate these larger vessels.
25 July 03
Pier To Be Opened By Prince Charles
The new Scrabster Pier will be officially opened by Prince Charles on Wednesday 6 August. The public are welcome to attend the ceremony. A small number of disabled vehicles will be allowed access to the pier for the opening. Contact the Harbour Trust for details right away Tel 01847 896744. If heading for the opening remember parking at Scrabster harbour is limited and you may require to leave your car outwith the harbour area if there is bit turnout.
16 July 03
Latest Pier Pictures


17 June 03
The Pier From The Air In June


8 April 2003
Pier In Springtime As work Goes On
24 March 03
Scottish Executive Throws £300,000 Lifeline To Scrabster To Get New Ferry Started
NorthLink has welcomed the Scottish Executive initiative and cash injection, announced today by the deputy minister for enterprise, transport and lifelong learning, Lewis Macdonald MSP, which will facilitate use of MV Hamnavoe on the Pentland Firth route.....................
24 March 03
Deputy Transport Minister At Scrabster
Lewis MacDonald Deputy Transport Minister will be in Scrabster on Monday 24 March 2003 to see for himself the progress of lack of it. The minister will be meeting Northlink management and is likely to announce the latest funding package for Scrabster Harbour Trust.
18 March 03
SCRABSTER WORK WILL ALLOW HAMNAVOE TO ENTER SERVICE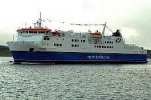 Work is due to begin soon on the existing pier at Scrabster which will allow NorthLink to bring MV Hamnavoe into service on the Pentland Firth route. NorthLink have been unable to use Hamnavoe on the route because of problems experienced by the Scrabster Harbour Trust in constructing a new pier that will accommodate the vessel.
15 February 2003
Beautiful Day - Work Goes On

13 February 2003
Legal Action Possible as Hamnavoe lies in Leith
Northlink is forking out £10,000 a week with the ferry being tied up art Leith as there is crew of ten on board. The £28 million ferry is all ready but Scrabster pier is 6 months behind schedule for opening.
23 December 2002
All Quiet For Christmas Holidays

11 December 2002
Dull Day Still Going Hard

28 November 2002
Bright Day

6 November 2002
Getting There


5 October 2002
Pier Stretching Out


24 September 2002
Biggest Set Of Pictures Yet




Activity is now round the clock seven days a week.
200,000 tonnes of aggregate are being trucked into position as they race to keep up with the teams driving piles on either side of the new pier with 120 meters still to go out into Thurso Bay
13 September 2002
Still Behind Schedule

7 August 2002
Action On All Sides


25 July 2002
Activity Moves Up A Few Gears At Pier


6 June 2002
New Pier Falls Behind Schedule


12 May 2002
Still A Long Way To Go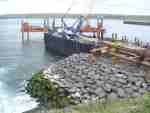 5 April 2002
Sunny Weather May Help Catch Up

19 March 2002
Still Slightly Behind Schedule

9 March 2002
Wet & Stormy Weather Causing Delays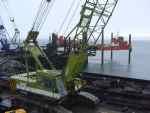 Weather problems but confidence is high that time will be made up over the coming summer months.
16 February 2002
Weather Delays But Work Goes On

6 February 2002
Edging Out

10 January 2002
Scrabster Pier - A Good Start

The pier has begun and the supports are lined up along the new road. The first section is in place and many more to follow in the coming months.
25 November 2001
Scrabster Before New Pier Work Begins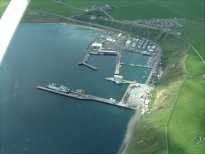 The new road to the pier is in place and here is a view before the new pier work begins.
18 November 2001
Pile Driving For New Pier about To Commence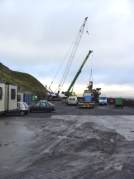 A 175 foot crane has been erected and is in place ready to move to commence pile driving
23 October 2001
New Pier Work About To Begin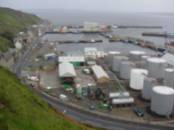 Within the next few days work on the new pier will begin. The work is due to be completed by August 2002. This will be the biggest extension of the harbour since it was built and add significantly to the area of enclosed water with much deeper water within the new harbour area.
The Development Underway
The pier will be capable of providing berthing to vessels of at least 9 m draft and 150-160 m in length. Although it is not initially envisaged that the new lay-by section of the pier will be readily available to the fishing fleet, the building of the berths frees up the existing lay-by berth and ro-ro quay for future usage by deeper drafted fishing vessels.
This construction is being developed so that it forms a breakwater which in turn, will provide a sheltered deep water facility and although not yet agreed / approved, there is a strong possibility that future development could take place. This in turn will also provide more berthing space for deeper drafted vessels probably on both sides of the existing ro-ro and lay-by quays.
October 2001
New Scrabster Lifeboat Base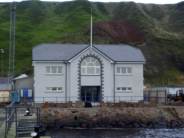 The new lifeboat base for Scrabster built as part of the new developments in the harbour is nearing completion.
September 2001
Progress At The New Pier Development


The new road stretching out to Holborn Lighthouse is completed requiring only to be surfaced. The next stage commencing shortly will be pile driving for the new piers itself. Everything seems to be on schedule and as you can see from the pictures on the left will make a significant increase in the size of the harbour.
The Progress at 24 June 2001
At a cost of over £16 million the deep water facility is likely to be capable of much more than just the new ro-ro ferry to Orkney.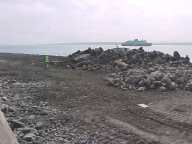 New Access Road Under Construction
The possibilities for Cruise ships and Oil Services related work must become a much more viable proposition once the work is completed next year.
If anyone is thinking about buying property in the harbour or Scrabster area perhaps they should get going before the prices move up. With all of this development in infrastructure more is almost bound to follow and property could be at a premium for offices and housing in the small Harbour area.