Unique Interpretative Display at John O'Groats is a first for the Highlands.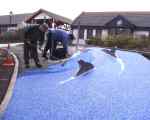 Easter 2002 saw the final pieces of the John O' Groats interpretative display put in place. The installation, which has been produced using Caithness flagstone and recycled glass, is an interpretation of the natural history of the area, and has taken five months to complete.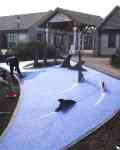 The main feature comprises three natural stones standing 2 - 2.5m high on a white clock face, representing the famous 'Stacks of Duncansby'. "The piece's title, 'Stacks of Time' was all part of the thinking to intrigue and involve visitors more in the area, says designer Julian Smith, now of 'Designsmith'. The real stacks are perhaps the most dynamic example of the massive forces which have shaped the Caithness coastline over millions of years, and I simply had to use them as icons in the display".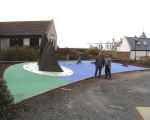 The roughly triangular geometry of the Stacks has been contrasted with the smoother curved shapes of dolphins and whales. The five flagstone sea mammals can be seen swimming towards the 'coastline of Caithness' through a sea of brilliant blue glass. This stunning coloured material is a relatively new feature in landscaping and amenity design, and this is the first time it's been used in the Highland Region. Any combination of stone chippings or recycled glass can be mixed with cold resin to form a solid base that offers infinite creative possibilities.
The impact of new feature might be guaged by the number of children photographed sitting on the dolphins. The attraction seems to have appeal to young and old alike.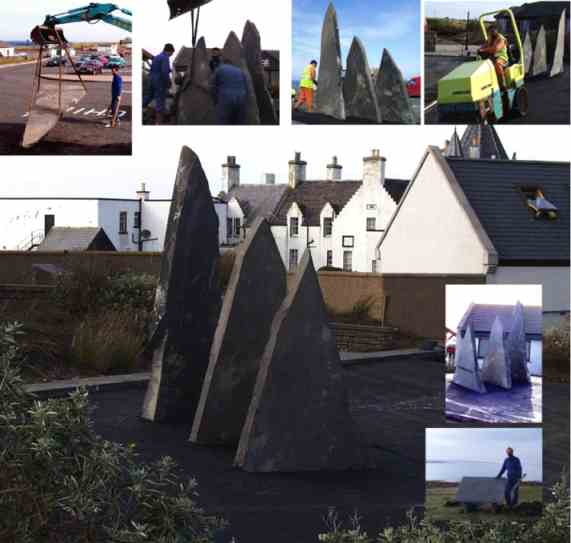 The display was funded by The Highland Council and Scottish Natural Heritage