Dwarwick
Dwarwick is a small headland on the eastern side of Dunnet Bay.
Scattered crofts, farms and houses make up a small population.
The Highland Ranger service often take walking tours over the headland pointing out the plants and bird life.



Dwarwick Pier has seen landings by the Royal Family on visits to the castle of Mey when the Queen mother used to be on her annual holiday.
There are picnic tables around the pier which is in a very quiet area overlooking the bay.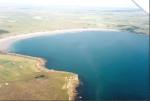 Dwarwick & Dunnet Bay