Neil Gunn was born on 8 November 1891 in the house next to the grocer's shop in Dunbeath. His father was a fisherman and the young Neil Gunn played near the harbour or and the river. The area abounds with places that appear in his books.
The Dunbeath River is an obvious "Highland River"
His famous Kenn in Highland River portrayed in the small statue at the harbour reveals the area though his eyes to the reader. Taking a walk in the are shows all the places that Kenn reveals to the reader.
Read the Books?
Then See The Places At Dunbeath
Go to Dunbeath Heritage Centre for more information.
Neil M Gunn- Centenary Lecture By Joy Hendry
Neil Gunn Writing Awards 2007 Winners
Neil Gunn Walk 26 October 2002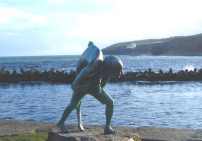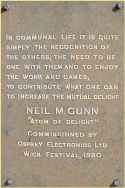 Buy Neil Gunn Books
Many of Neil Gunn's books are available from Dunbeath Preservation Society. They also have a range of pamphlets about Neil Gunn by different authors.
Works By Neil Gunn
The Atom of Delight (1956, autobiography)
Bloodhunt (1952)
Butcher's Broom (1934)
The Drinking Well (1946)
The Green Isle of the Great Deep (1944)
The Grey Coast (1926)
Hidden Doors (1929, short stories)
Highland Pack (1949, essays)
Highland River (1937)
The Key of the Chest (1945)
The Lost Chart (1949)
The Lost Glen (1932)
Morning Tide (1930)
Off in a Boat (1938, travel & autobiography)
The Other Landscape (1954)
The Poaching at Grianan (1930)
Second Sight (1940)
The Serpent (1943)
The Shadow (1948)
The Silver Bough (1948)
The Silver Darlings (1941)
The Man Who Came Back - Short Stories and Essays
Storm and Precipice (1942, anthology)
Sun Circle (1933)
The Well at the World's End (1951)
Wild Geese Overhead (1939)
Whisky and Scotland (1935, essay)
The White Hour (1950, short stories)
Young Art and Old Hector (1942)
Most Neil Gunn Books can be borrowed from
Highland Libraries
Books About Neil Gunn
Essays on Neil M. Gunn (1971) by David Morrison
Neil M. Gunn: a Highland Life (1985) by Francis Hart
Novels of Neil M. Gunn (1987) by Margery McCulloch
Neil M. Gunn (1992) by Ian Grimble
Neil M. Gunn (1993) by Joy Hendry
Neil M Gunn- Centenary Lecture By Joy Hendry
See Also
Caithness Poets
Scotia Review
The statue Was Made by Alex Main who was a teacher at Thurso High School. He Wrote - "I'm not sure the year it was made '92 '93? It was cast in the Powderhall foundry in Edinburgh. The Neil Gunn Society wanted a scene from Highland River, where young Ken has the struggle and eventually poaches the salmon.
They wanted an exact replica of the description in the book."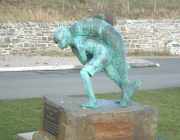 Neil Gunn Links
Neil Gunn Web Site
Neil Gunn On Literary Landscapes At Am Baile
Photos and audio extracts
Neil Gunn On Wikipeadia
Neil Gunn At The BBC
Neil Gunn At Scotland's People