Whitegate Broch
ND 3541 6120
Details From the Canmore Database of www.rcahms.gov.uk
Internal diameter 26ft
Wall thickness 13ft.
Wall height remains - up to 3ft.
"The finds from the broch include grain-rubbers and rotary querns and fragments of a large jar of coarse, unglazed pottery from one of the internal, secondary structures. This has been reconstructed and is now in the National Museum of Antiquities of Scotland (NMAS), as are the finds from the excavation of the broch by Sir Francis Tress Barry. Anderson notes the remains of the foundations of an oblong, rectangular building within a few yards of the broch. This has been 45ft long by 24ft broad with dry-built walls about 4ft thick. This building seems to compare with the houses of the Viking settlement at Freswick (ND36NE 4), although as Childe points out, these were probably the fore-runners of the 'black-house type', in which case the building might simply be one of these."
Since the excavation by Sir Francis Tres Barry there have been other reports made in 1965, 1981, 1982 and more recently in 2000 by A Heald and A Jackson. A Heald is the same Dr A Heald excavating with team in July 2006. A smaller excavation is taking place at Harbour Broch , Keiss and small trench at Roadside Broch Keiss. One of the aims is to see if there is any connections with all of the brochs in such a small area of countryside.
The Canmore database of RCAHMS contains references and records relating to archaeological sites all over Scotland
18 July 06
Excavation Of Whitegate & Keiss Harbour Brochs Underway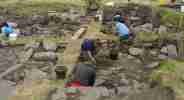 Whitegate Broch is being excavated by a team under the leadership of Dr Andy Heald of the National Museum of Scotland with students from Nottingham university and local amateur archaeologists. The two brochs at Keiss harbour are under investigation with the larger dig being concentrated on the Whitegate broch. The project has the full support of the Caithness Archaeological Trust.

Open Day - Saturday 22 July 2006
The team are inviting members of the public to an open day on Saturday 22 July between 1.00pm and 4.00pm to view the site and hear what they have discovered to date. Free tours will take place

Already an interesting feature which they hope to uncover in greater depth is the discovery of corbelled well in the centre of the broch. Dr Heald hopes to have some samples dated for comparison with the nearby Keiss Harbour Broch to assess the possibility of some connection due to their close proximity. If you would like to see round the excavations on Saturday 22 July head for Keiss Harbour foreshore